Commission opportunity for wind ensemble
Grade level – 4.5-5
Duration – 4:50 (approximately – it may still grow a bit)
Buy-in – $400
Instrumentation – wind ensemble – includes piano, timp+5 perc. Optional instruments include Contrabass clarinet, Contrabassoon and Harp
Premiere – March 19, 2024 by the Pacific Symphony Youth Wind Ensemble under Dr. Gregory Xavier Whitmore – Renee and Henry Segerstrom Concert Hall, Costa Mesa, CA
Exclusivity period/Consortium performances – March 20, 2024 – March 19, 2025
---
THE INFORMATION AGE (midi sketch)
---
I've been calling THE INFORMATION AGE a "symphonic invention". Somehow "invention" seems like just the right word, the right fit. This piece is absolutely filled to overflowing with melodic material, most of it in the form of very short snippets – hooks, riffs, fragments, theme-lets, signals, etc. The constant fizzing interaction between these creates the feeling of a busy, hyper-active futuristic society, a tangle of buzzing data and ideas – the INFORMATION AGE. The fast-moving character is accentuated by the use of "shock dynamics", as the orchestration jumps abruptly from small to large, the dynamic from mezzo to a blazing fortissimo and back again in the blink of an eye.
The contrasting center section is simpler, more introspective and more reflective, with some gentle lyric themes in a 5/4 meter. The themes here are almost naïve in their innocence, in direct contrast to the manic style of the opening.
After the naïve section, momentum re-asserts itself and leads to the return of the invention, which is now fortified by the robust strength of the simpler themes, which have carried over from the center section. All the various materials sound together in a final ecstatic collage as we make our way to the end.
The challenge for the ensemble in this piece is not individual virtuosity, but rather the co-ordination of a large number of diverse parts into a cohesive whole, all while maintaining a sense of flow, continuity and story. Everyone needs to be on the same page rhythmically – this one requires a lot of teamwork.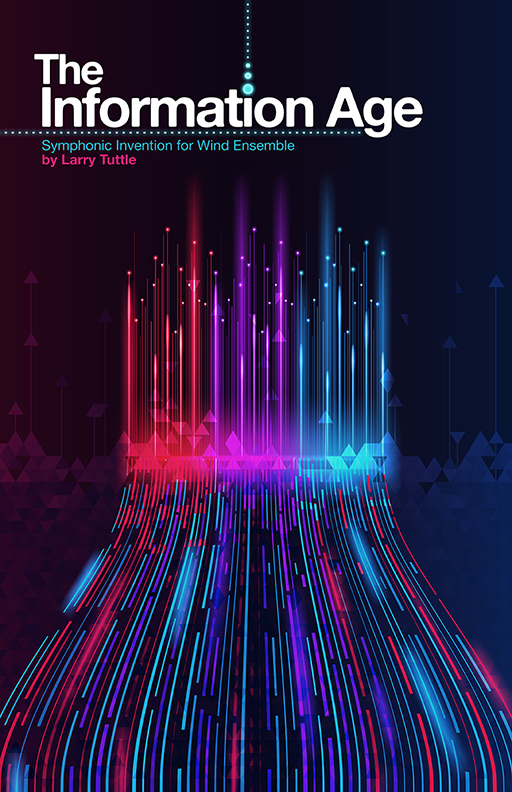 ---
---
Progress report
THE INFORMATION AGE is nearly complete at this point (the ending still might change a tiny bit, but what you hear in the midi demo is very close to final).
Timeline
From now through February 29, 2024 – Fee due.
December 2023 – delivery of final parts and scores
March 19, 2024 – premiere – Pacific Symphony Youth Wind Ensemble, Dr. Gregory Xavier Whitmore conducting
March 20, 2024 – March 19, 2025 – exclusivity period, performances
Questions?? Let's talk – send me an email at larry@larrytuttle.com
Background
I was first introduced to the world of Wind Ensembles and Concert Bands by H. Robert Reynolds, who found my orchestral work CHORALE AND FIDDLE TUNE on my web site. CAFT had won the Pittsburgh Symphony's Audience of the Future Composition Competition. Maestro Reynolds commissioned a Wind Ensemble version of the piece (which became ACROSS THE DIVIDE, still my most popular work). My most recent commissions are THE TIME TRAVELER, an epic four-movement programmatic suite for advanced wind ensemble, and THE TOURNAMENT, currently in its period of exclusivity (available for general programming starting January 2024).